Arbor Cadence
Buy Arbor Cadence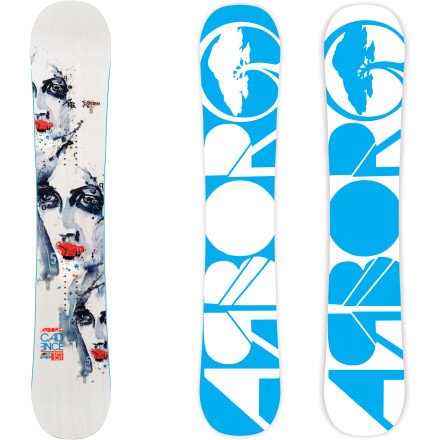 You can buy the Arbor Cadence at these women's snowboard shops:
| | | | |
| --- | --- | --- | --- |
| | | 399.95 | |
| | | 399.95 | |
| | | 399.95 | |
| | | 399.99 | |
Arbor Cadence Reviews
- Maggie:
Arbor has a niche for high-quality, high-performance pieces of artwork and this board definitely belongs to the family.

The Cadence is a directional twin that holds an edge for all mountain riding and provides a solid and dependable ride. I found the board to be of medium stiffness, and not my preference for lots of jibbing, but was very pleased with it as a bomber board for trees, bumps and naturally-sculpted terrain. From the wood core to the wood inlaid topsheet, riding an arbor is like being one with nature. I adore the graphics/presentation and consider many of the Arbor boards I have seen to be some of the most intricate, hand-crafted jewels of snowboards ever constructed.
Check out Shayboarder's review of the 2009 - 2010 Arbor Cadence on her blog.

She's highly regarded in the women's snowboarding community as one of the foremost product test riders out there - big props to Shannon!

Shayboarder's Arbor Cadence Review
- KingRascal:
When I was looking to buy my first board, I knew I was going for quality. I had heard great things about the workmanship and sustainability of the Arbor boards so I knew that to plunk down the extra $100+ more than the typical mainstream boards would be money well spent. I did a bit of research online and saw how highly reviewed the Arbor Cadence was. Good Wood 2010, too! Since I'm a beginner with this being my 2nd season, I definitely wanted a board that could give me some room to grow as my skill level increased. So I ended up getting the Cadence 149 and I'm about 5'4" so this board is great for me for speed :)

Plus the graphic hit me like a brick wall. It's so sexy that my boyfriend was pushing me to get it! Ever since I've started using this board, I've even been getting compliments from strangers left and right. It's definitely an attention grabber! The Sylvia Ji artwork is stunning! I'm proud to own it. Plus with Arbor's bamboo core, it's light like a feather on the lifts and makes a long day on the mountain seem like minutes. Buy this board and you won't have any regrets. In fact, you'll probably fall in love like I did.
Arbor Cadence on