Nidecker Princess
Buy Nidecker Princess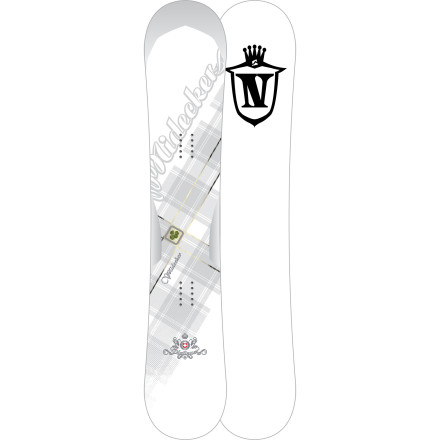 You can buy the Nidecker Princess at these women's snowboard shops:
| | | | |
| --- | --- | --- | --- |
| | 578.95 | 376.32 | |
Nidecker Princess Reviews
- MZ:
I just rode my new Princess after riding an Option Bella for 4 years. The first thing I noticed is that I am able to dig in pretty hard so my turns are much more solid. The next thing I noticed is that while traversing, my board didn't want to skip downward! It stayed tried and true and I didn't have to dip in where I didn't want to. Finally, a board that won't slip out from underneath me.
- rdubachreg2008189:
My wife and I have ridden Nideckers for 10 years and used to love them. My wife rides a princess and I rode a legend. The rail of my legend separated from the core of the board after only riding it 12 times. Coincidentally I had a tiny wax scratch (the kind you get from running over a small stone) directly by the damage, which Nidecker said voided the warranty. Worthless product if the manufacturer doesn't stand by it's quality.

Expensive boards, poor customer service, faulty product. I wouldn't buy it again.
- treecamp:
I really like how this board held up on hard pack. It kept an edge and gave a solid impression of carving. It is also pretty quick and never let up on speed on the straight. I highly recommend it.
Nidecker Princess on