Nitro Mystique
Buy Nitro Mystique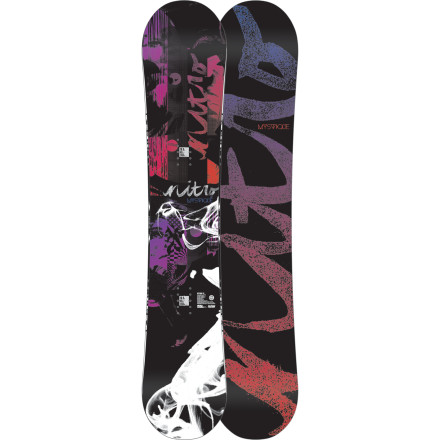 You can buy the Nitro Mystique at these women's snowboard shops:
| | | | |
| --- | --- | --- | --- |
| | 329.00 | 199.95 | |
| | | 349.95 | |
| | | 349.95 | |
Nitro Mystique Reviews
- zerofoursa231797: 28, 5' 2", 110 lb, 142 cm snowboard, 2 years riding.
all you girls out there just starting to get really into snowboarding....this is the board to take you to the next level.....this board will follow you through the next years and do it in style.....a feminine graphic when you look at it from a far but when you get up close you realize that its got some attitude to it......a directional shape and progressive sidecut makes this the perfect smooth riding, easy turning board to follow you as you progress through the snowboard ranks....and with a two year warranty, you are comfortable in the fact that you don't have to worry about your investment for two long years.....
- youngboardin: 13, 5' 0", 90 lb, 138 cm snowboard, 3 years riding.
So, I was looking for a snowboard 3 years ago because my mom and dad are snowbarders. I got interested in snowboarding when I was 10, and first rented a Burton 136. It was a good fit, but it was just a rental. After becoming interested in the sport, I went shopping for a board. What I found was this beautiful board, 138, my size. You know What? I bought it. After 3 years, I still have it. It's great. Just think, a board as your FRIEND. Weird, impossible. .. right? Wrong! This board is still going, and so is our friendship.
Nitro Mystique on